Our advertising store began as a dream of its founder in 2015, nurtured as an idea until it came to life in 2017. The primary purpose behind its inception was to establish an agency in a form of a creative store that stood out from others in the market. With a strong focus on differentiation, we sought to set ourselves apart in identity, work quality, ideas, and, most importantly, creativity. As a creative advertising store, we have decided to establish a venue to sell and excute unique concepts. Within this store, a team works effectively and uniquely, collaborating with art directors to execute an intellectual strategy, aligned with our pillars of excellence. Our store features a variety of services in the form of cards, including Branding, Creative Concepts, Print Campaigns, Photography, Digital Solutions, Interior/Exterior Design, Video Ads, and Events.
At Nabaroski Ad Store, we reach beyond local markets, competing globally. We embrace the challenges with excitement, treating them as a game that ignites our drive for excellence.
At Nabaroski Ad Store, our mission is to excel in the world of marketing and advertising. We take great pride in our commitment to delivering projects on time and achieving tangible results that have a meaningful impact. Our team is dedicated to creating extraordinary artwork that commands attention and keeps us at the forefront of this fiercely competitive industry. Each project is approached with enthusiasm, ensuring work is transformed into a fun and enjoyable experience. We blend innovation and expertise to craft effective strategies for our clients. With our guidance, our clients are empowered to secure their paths to both victory and success.
Meet Nabarawy, the visionary behind Nabaroski Ad Store, is a graduate from the Academy of Art and Design with a major in Graphic Design, boasting an impressive 20 year experience working with esteemed local and international companies, including FP7, Drive dentsu, mahdys, KTP, and ABTBWA. Throughout his career, Nabarawy has spearheaded extensive campaigns for prominent brands like Americana, Etisalat, Birell, Fayrouz, Hardees, Oreo, Edita Mcvities, Elaraby Wadi Degla, and Banque Misr. His pursuit of a dream led him to establish Nabaroski Ad Store for advertising services in 2017, and since then, the agency has been committed to providing the market with a culture of creative and innovative ideas, revolutionizing product marketing both locally and internationally. Nabarawy takes pride in the agency's achievements, with numerous successful campaigns for brands such as Novella, Karma Kay, MTM, Alodent, and Youkozuna. His focus remains on delivering a unique and creative approach for clients, empowering them to excel in highly competitive markets and emerge as market leaders through unconventional and exceptional means.
Farouk Elkady is the Head of Art and Co-Founder of Nabaroski Ad Store. He graduated from the Faculty of Fine Arts. Combining his creative thinking with graphic design skills, he collaborated with major clients such as Toyota, Vodafone, Kia, GP Corp, LG, Kapci, and Juhayna. With over 15 years of experience, he has worked in multiple advertising agencies across Egypt and the Middle East, spanning industries such as including food, automotive, finance and insurance, healthcare, FMCG, real estate, and more. He has conducted workshops on creative thinking and spoken at events in the advertising industry.
In his co-founding role at Nabaroski Ad Store, Farouk contributes to steering the agency towards a promising future. He is passionate about art's ability to preserve history and culture. Understanding the transformative potential of art, his passion lies in storytelling. He believes that every product or service has a unique story to tell, reflecting its history, purpose, and environment. It is through meticulous attention to detail that the essence of these stories is brought to life. Farouk is poised to make a significant impact in the industry. As he continues to refine his craft, he is well on his way to becoming a dominant force in the market.
"Throughout the history of the agency, we are proud to display the various diverse campaigns we have conducted, as well as the features and appreciations from worldwide magazines and marketing websites. Sit back and enjoy the art."
In 2019, Roots campaign, Roots is a restaurant that serves healthy food and the
campaign was published on Archive which is one of the biggest advertising in the based on their request to share our work on their magazine in the healthy food section.
In 2021, We were featured in Favorite Design page to be the favorite designer of the day.
In 2022, we earned the distinction of being among the top 5 agencies in the world to conduct socially responsible campaigns for Act Responsible. Our initiative focused on raising awareness about accidents with the campaign theme "It Might Open Your Airbag."
In 2018, We were honored to be the selected agency to conduct a campaign for one of the biggest Advertising websites in the world "Ads of the world"
"WE WERE HONORED WITH THE ALRAMEH AWARD FOR OUR CAMPAIGN PROMOTING GASOLINE 95 FOR 'TOTAL ENERGIES.' THIS CAMPAIGN WAS PUBLISHED IN ALL OF EGYPT'S GAS STATIONS IN 2006 AND GARNERED RECOGNITION FROM HASSAN HAMDY, THE FORMER PRESIDENT OF AL AHLY FC EGYPTIAN FOOTBALL CLUB, AS WELL AS THE PRESIDENT OF THIS AWARD."
Our campaign for Epoch was featured in the well known book in Japan and in China which is called "Delicious". We were honored to work on this amazing campaign.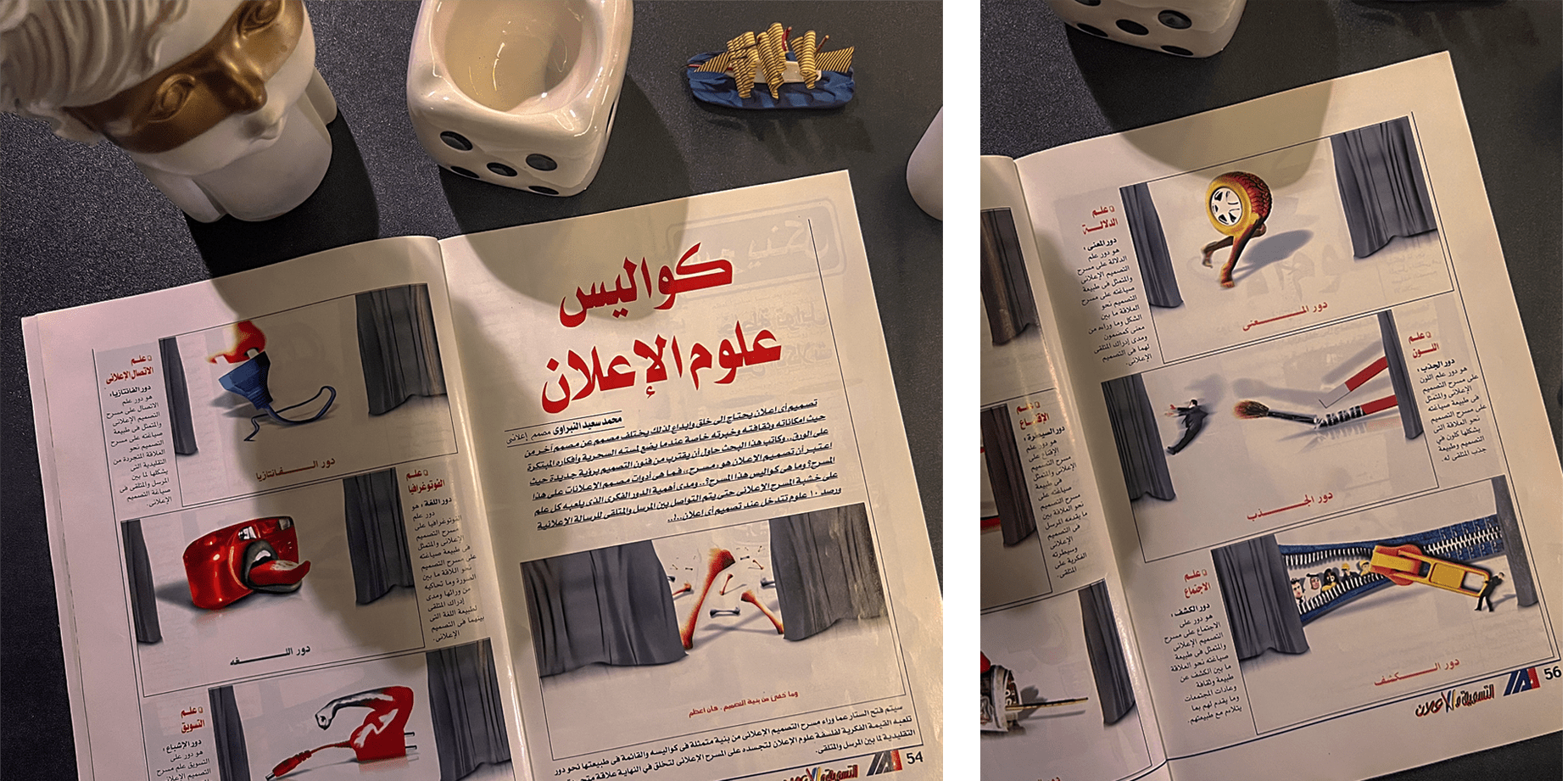 OUR FOUNDER, MOHAMED NABARAWY'S VERY FIRST PROJECT, HIS GRADUATION PROJECT TITLED "BEHIND THE SCENE OF THE SCIENCE OF ADVERTISING," WAS FEATURED IN GEORGIA UNIVERSITY, IAA MAGAZINE, AND OTHER NOTABLE MAGAZINES, GAINING RECOGNITION ON A GLOBAL SCALE.